The workshop
AofA 2009 has taken place from 14-19 June 2009 in
Villa Clythia
in Fréjus, situated in the French Riviera on the south coast of France.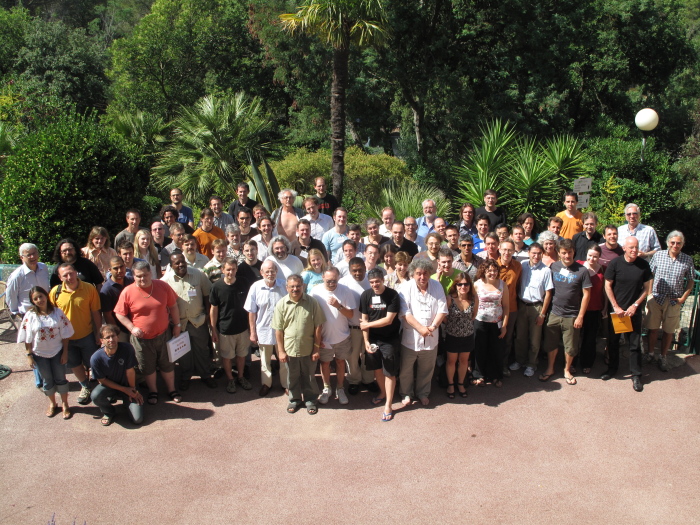 Location
There are several ways to access
Villa Clythia
.
By railways: TGV to Saint Raphaël (3 km or 2 miles)
By plane:

Nice (70 km or 45 miles)
Toulon (90 km or 55 miles)
Marseille (140 km or 85 miles)
Philippe Flajolet kindly contributed a short survival kit that may help you plan your trip. Please note it has not been thoroughly validated and is provided only for your convenience.
Accommodation and Payment
All the rooms of the Villa are reserved for the participants. The rates are:
425 euros for participants sharing a room
475 euros for other participants.
This is for a stay from Sunday evening, June 14, to Friday evening, June 19. Included are lodging and meals (breakfast, lunch and dinner).
People arriving or departing later can stay at Villa Clythia (70 euros/night, breakfast included) although we have to check AVAILABILITIES. So please send us an email if you are in this case.
The fees may be paid on arrival by cash or credit card. They can also be paid by bank transfer with coordinates found here here (IBAN, BIC...).
For French the fees can also be paid with a cheque or a &lquo;bon de commande&rquo;. The admistrative information on Villa clythia can be found here (SIRET & SIREN).
Scientific program
Main speakers
Brigitte Chauvin ( INRIA Rocquencourt, Projet Algorithms & Université de Versailles St-Quentin, LMV)
Jérémie Bouttier (CEA-Saclay, France)
Bernhard Gittenberger (Institut für Diskrete Mathematik und Geometrie, Vienna, Austria)
Philippe Jacquet (Hipercom, INRIA Rocquencourt, France)
Marc Noy (UPC, Barcelone, Spain)
Uwe Roesler (University of Kiel, Germany)
David Sankoff (University of Ottawa, Canada)
Gilles Schaeffer (LIX, Ecole Polytechnique, France)
Social program
An excursion by boat in the calanques from the Esterel to Sainte-Marguerite Island is scheduled on Wednesday afternoon. The meeting dinner will takes place on Thursday at Villa Clythia.
Organizing committee
Frédérique Bassino (LIPN, Université Paris 13 & CNRS)
Julien Clément (GREYC, Université de Caen, ENSICAEN & CNRS)
Steering committee
The steering committee of the AofA meetings consists of
Philippe Flajolet, INRIA (France)
Robert Sedgewick, Princeton (USA)
Wojciech Szpankowski, Purdue (USA)
Brigitte Chauvin (France)
Luc Devroye (Canada)
Michael Drmota (Austria)
Participants
The provisional list is
here
.
Contact